Violence flares in Indian Kashmir protests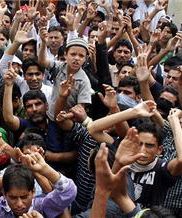 FROM AL JAZEERA. At least 15 people across Indian Kashmir have been killed in protests against the Indian government and reports of Quran burning, in the most deadly day of violence since mass demonstrations against Indian rule began three months ago, Indian police say.
Despite a rigid curfew imposed across the region, tens of thousands of protesters took to the streets on Monday, throwing rocks, torching government buildings and chanting "Go India, go back. We want freedom.''
Security forces shot live ammunition at some of the crowds, killing people in at least five different villages, said a police officer, who spoke on condition of anonymity because he was not authorised to speak with media.
In the village of Tangmarg, troops fired on thousands of rock-throwing demonstrators, killing five people and wounding at least 50 others, the police officer said. Earlier, protesters burned at least four government buildings as well as a schoolhouse in the town.
In Budgam, troops tried to disperse demonstrators with tear gas and baton charges but began firing into the crowd after protesters attacked a police station and the government forces with rocks, the police officer said.
At least four people including a young woman were killed and at least 30 others were wounded, some critically, the officer said.
A policeman was also killed during the protests in Budgam after he was hit by a vehicle that then sped away, the officer said. At least four other protesters were killed in three other towns, he said.