Study finds one-third of countries 'highly restrict' religion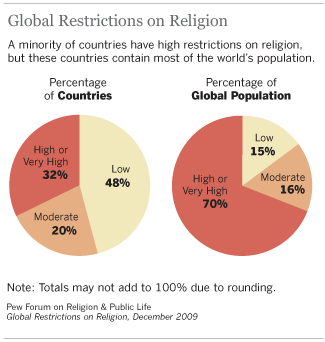 Washington, D.C.
In a first-of-its-kind study, the Pew Forum on Religion & Public Life announced on Wednesday (Dec. 16) that 70% of the world's religious people suffer "high" restrictions in their home countries.
"Some restrictions result from government actions, policies and laws.Others result from hostile acts by private individuals, organizations and social groups," the report said.
The Middle East-North Africa has the highest government and social restrictions on religion, while the Americas are the least restrictive region on both measures.
Among the world's 25 most populous countries, Iran, Egypt, Indonesia, Pakistan and India stand out as having the most restrictions when both measures are taken into account, while Brazil, Japan, the United States, Italy, South Africa and the United Kingdom have the least.
In all cases, religious minorities are the most likely to suffer reprisals.